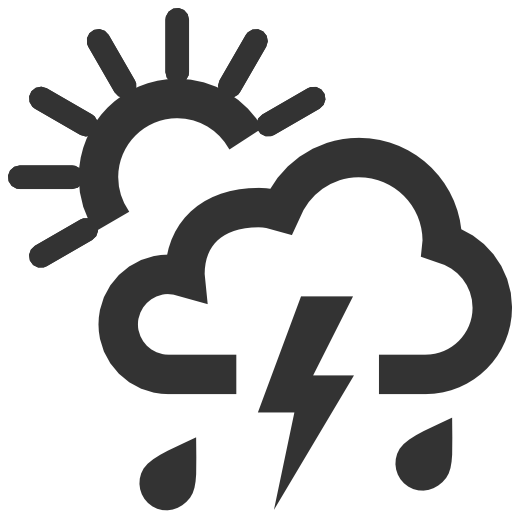 Rainfall was well below average for Queensland in December 2016.
1st December – Severe thunderstorms swept through on the 1st with large hailstones up to 10cm recorded in Kandanga and widespread damage to roofs was recorded around Imbil.
3rd December – Multiple severe storms impacted the South East. The first of several supercell storms moved into Queensland from New South Wales sweeping through Brisbane's CBD, Brisbane Airport, Nudgee, Samford and Albany Creek about 5:25pm, before moving north-east all the way through to waters off Bribie Island. A further storm cell hit Boonah, Laidley, Gatton, Esk, Burpengary and Brighton about 5:50pm and cells impacted Caboolture, Kilcoy and Kingaroy north-west of Brisbane after 7:00pm, before moving over Maroochydore and Caloundra on the way to Gympie.
18th December – a severe storm hit the south east with wind gusts up to 100km/h being recorded at Amberley. A home in The Gap lost its roof and many homes sustained damage due to falling trees. Ipswich received the heaviest rainfall, with 55 millimetres falling in 30 minutes.
January has seen heatwave conditions across the state, coupled with severe storms and flash flooding.
3rd January – an offshore trough caused low level convergence, humid atmosphere, and the showers aligned for continuous showers. Sucrogen Weir, near Sarina, recorded 269mm in the 24 hours to 6am on 4th January 2017 and the Mackay Airport recorded its wettest January day since 1951 with 233mm to 9am. As a result of the heavy rain flash flooding has been recorded with homes inundated and 13 roads recorded as closed across the region.
7-11th January – Continuous rain has fallen across the Far North with Innisfail experiencing over 1000mm in the period 7-11 January 20117. Some water ingress claims being responded to.
Queensland has experienced heatwaves across the state with the BOM defining a heatwave as "three or more days of high maximum and minimum temperatures that are unusual for the location".