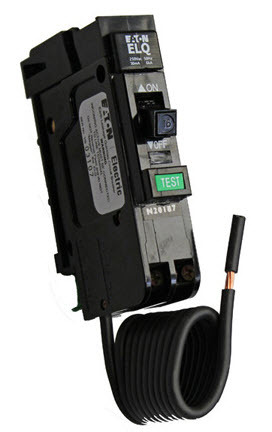 A range of Eaton Quicklag ELQ-TW earth leakage circuit breakers have been recalled by the suppliers due to risk of electrical fire.
The affected models can be identified by a green test button as shown in this image and are listed in the table. Models without a test button or with a white or an orange test button are not impacted by this recall.
The affected models were supplied nationally from 1 April 2004 to 15 December 2016. The RCBO has a serial number on the side from which the date of manufacture can be determined.
Safety issue: Risk of Fire
A non-compliant material has been used in the manufacture of a component. When operating under short circuit conditions the RCBO may put out ionised gases through the exhaust port which can lead to a fire.
Action required:
Building owners, managers and electrical contractors are urged to check switchboards or load centres for potentially affected RCBOs.
If you find a recalled RCBO model installed in a customer's premises, you should notify them about the recall and have them contact the supplier to arrange for a replacement RCBO to be installed.
Supplier details:
Eaton Industries Pty Ltd
Phone: 1800 870 851
Website: www.eatoncorp.com.au/elqtw-r