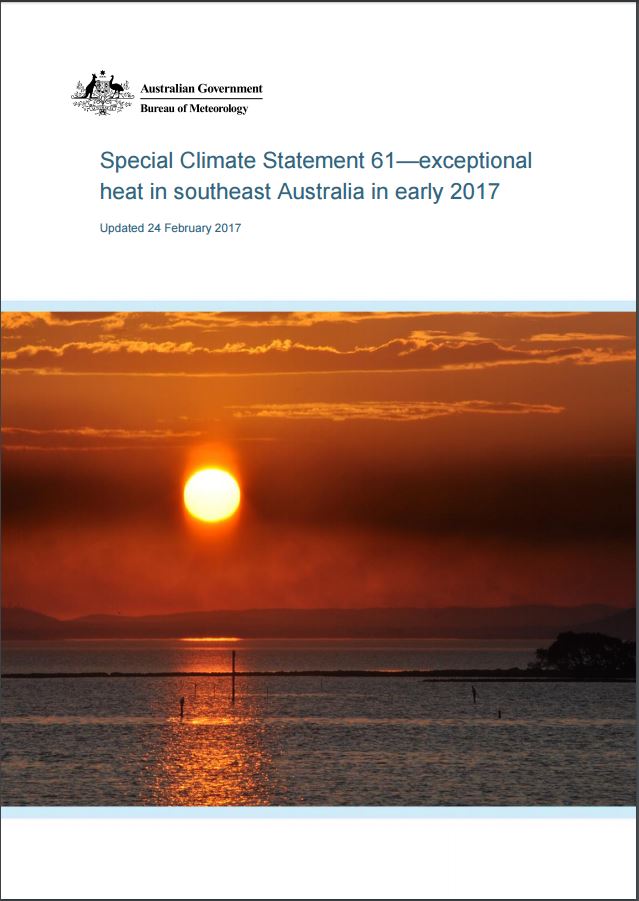 The Bureau of Meteorology reported this month that Brisbane had its warmest February on record in terms of mean temperature. Brisbane also had its highest February mean maximum temperature on record and second-warmest February mean minimum temperature on record. Rainfall was well below average at all Brisbane locations.
Persistent heat throughout the month; record warmth
Brisbane had its warmest February on record, with a mean temperature of 27.6 °C (+2.3 °C above average), beating the previous record of 27.3 °C set in 2004
Brisbane also had its hottest February days on record, with 32.5 °C (+3.5 °C above average); also its second-warmest mean minimum temperature on record with 22.7 °C, and only 0.2 °C below the record set in 1981
Brisbane had a record run of 26 consecutive days above 30 °C (1st to 26th), beating the previous record of 16 days set in 2016 by a long margin
The peak of the heat occurred between the 10th and the 13th, and the hottest day on the 12th at most sites; Amberley had its hottest February day on record
A mostly stagnant weather pattern over the southeast during the month resulted in all sites recording mean maximum temperatures more than more than 2 °C above the long-term average, and most metropolitan locations having their warmest February days on record
Overnight temperatures were well above average, and some locations sites had their warmest February nights or equal highest on record
It was extremely hot on the 12th: Thargomindah (47.2 °C), Birdsville (47.1 °C), Ballera (47.0 °C), St George (46.8 °C) and Bollon (46.5 °C) all equalled or exceeded the previous Queensland record for the hottest February day (was 46.5 °C at Ballera on 6 February, 2006)
Well below average rainfall totals
Overall, rainfall was below to well below average at all Brisbane metropolitan locations
All sites recorded less than 30% of their average February rainfall and reported monthly totals between 20 mm and 40 mm
Showers brought light falls to the southeast on the 8th and 9th; thunderstorms on the 13th produced falls up to 20 mm across the metropolitan area
Overnight thunderstorms on the 18th, and continuing showers across the southeast coast resulted in falls of 10 mm to 15 mm at most locations
Most of the State had below to well below February rainfall; pockets along the southern border and in the southeast had their driest February on record or in several decades
Much of the southwest and southeastern districts of Queensland recorded less than 20% of the average February rainfall
Severe Thunderstorms
A line of severe thunderstorms formed over the southeast coast on the 13th, and affected parts of the greater Brisbane area with very strong wind gusts of up to 115 km/h recorded at the Inner Reciprocal Marker in Moreton Bay
Tropical cyclone Alfred
Alfred was first identified as a tropical low near Borroloola (in the Northern Territory) on the 15th, and remained slow-moving near the southern Gulf of Carpentaria coast for a number of days
Tropical cyclone Alfred was named early on the 20th, and remained a category 1 system for almost 24 hours, before weakening and eventually crossing the coast as a tropical low in the early afternoon of the 21st
Sweers Island recorded a rainfall total of 1159 mm from the 14th to the 23rd
Special Climate Statement 61—exceptional heat in southeast Australia in early 2017
The Bureau's Special Climate Statements provide a detailed summary of significant weather and climate events. In Special Climate Statement 61 the BOM review the exceptional heat and heatwaves across the Southeast.
Click here to review the Special Climate Statement.