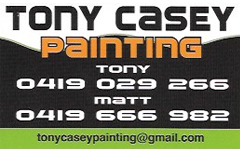 Tony Casey Painting is a locally owned and operated business working within Townsville for the past 30 years.
We have been working with Ambrose Construct Group since 2017.
Ambrose Construct Group are a well organised company who have always gone above and beyond. Their ability to coordinate all the different trades successfully whilst still maintaining a friendly and positive relationship.
Tony Casey Painting